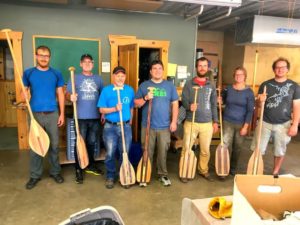 January 30 - February 2, 2020 @ North House Folk School, Grand Marais, MN
In this class students will build one laminated paddle, similar to the fancy wooden paddles often seen in canoe outfitters shops.

Not just show pieces, laminated paddles have several unique qualities that make them highly functional on the water. The lamination of several types of wood makes the shafts strong and stiff. Laminated blades can be made from beautiful hardwoods that would be very heavy and hard to carve if used for the entire paddle.

Students will learn a combination of traditional and modern woodworking skills, including the use of the spokeshave, drawknife, carving knife and scraper, as well as the application of epoxy and polyurethane glues. Students will choose the shape of the handle and blade and the length of the shaft to personalize their paddle.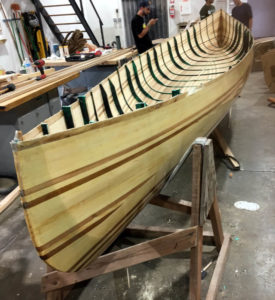 September 19-27, 2020 @ Wisconsin Canoe Heritage Museum in Spooner, WI
Strip canoes were built throughout the 20th century in America, and you can see several in the collection at Wisconsin Canoe Heritage Museum. However with the advent of composite boat building techniques, the cedar strip boats really came into their own. Composite boat building using fiberglass and plastic resins started in the 1940's, but has been continuously improved upon since, and over time began incorporating wood into finished products due to its light weight, stiffness and beauty. Today most high end wooden sailing yachts are custom built using wood composite techniques.

The Cedar Strip Canoe is a great introductory class because it teaches traditional boat building techniques, modern composite techniques, and produces an amazing canoe. Cedar strip canoes weigh as little as 40-50 pounds, are as strong as you'll ever need, put the beauty of natural wood on display, and require much less maintenance than other wood canoes.

In this class, you will learn the basics of boat design and construction, as well as the skills to bend and shape stems, bevel strips for a tight fit, laminate glass onto the inside and outside of the boat, and install all the finishing touches.

Each group of 2-4 people will finish a canoe, making it an ambitious project for 9 days! Please plan to come with a partner or a group of up to 4 people. This is a great class for a couple or family.